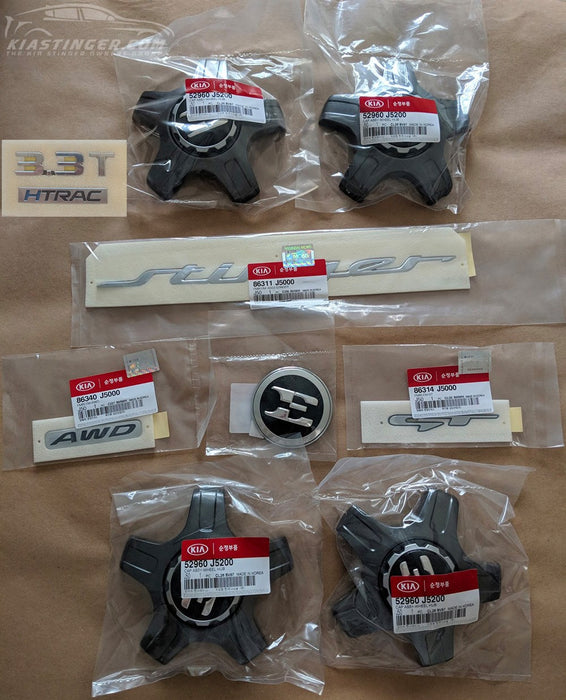 Factory Genuine OEM Kia Stinger Re-Badge Package
RIDICULOUSLY FAST SHIPPING! We ship the same day you order. Often within the hour!
Engineered by Excellence
Exclusive
Exquisite
Evolutionary
Genuine high quality OEM pieces – not knockoffs
Please be sure to select the proper wheel type. Your Stinger either has the bolts showing/visible, or they're covered with a grey star-shaped piece.
Large set: Round E emblem, 14" STINGER text emblem, GT emblem, AWD emblem, 3.3T emblem, E wheel cap set.

Small set: Round E emblem, 14" STINGER text emblem, E wheel cap set.

Upgrade your Kia Stinger with this package of OEM badges that can include, depending on which set you choose, the front "E" badge, the rear script "Stinger" badge, the rear "AWD" all wheel drive badge, the rear "GT" badge, the 3.3T badge, and four "E" wheel center caps.
The "star" shaped caps cover the bolts for a clean look. If your Stinger has them, then this is what you want. If your Stinger does not have them, then they won't fit. Either type is the perfect replacement for the ordinary Kia badges all around your Stinger. Same day shipping makes this OEM set a no brainer for anyone who wants what they buy right away.
Neither this product, nor our website, is sponsored by, affiliated with, or endorsed by Kia America, Inc, Kia Motor Corporation, Kia or any other company listed herein. Any logos or various model names and numbers are registered trademarks of the Kia Corporation, Kia Motors Corporation or Kia America, Inc. These terms are used for identification purposes only.