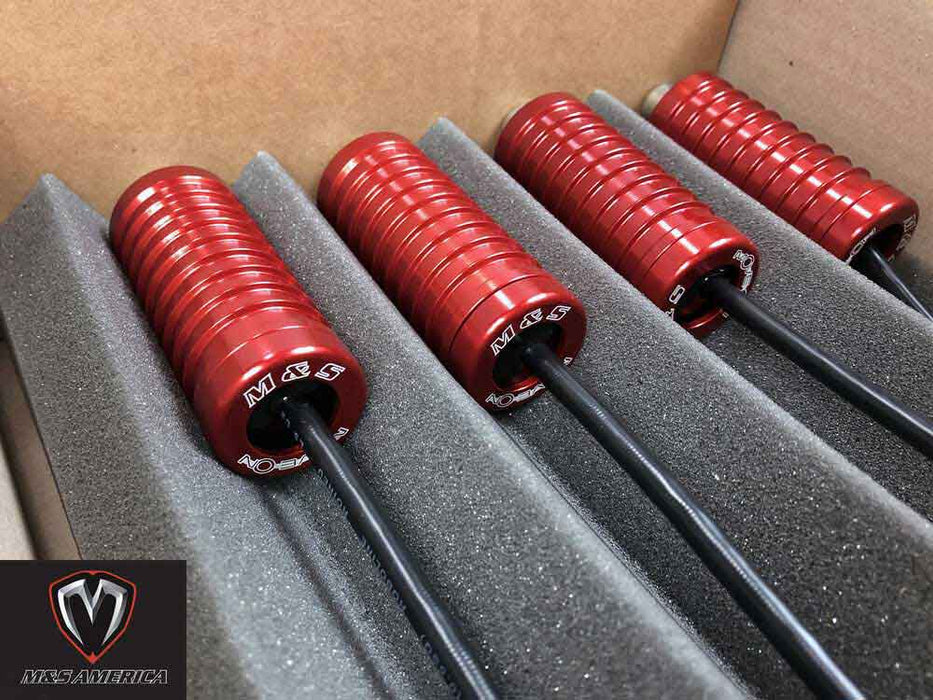 You can always buy with confidence when dealing with the M&S brand. They've made a great name for themselves in the industry.
Material (Coilover): 6061 Billet Aluminum Construction
Material (Spring): SAE 9254 Cold Wounded Steel (100% cold forming steel)
Color (Coilover): Silver & Gold
Color (Spring): Ceramic Gray

Package Contents:
Canceler units with connectors (4pcs)
Mounting brackets (4 sets: 8pcs)
Product Details:
The M&S America ECS Cancelers kit will prevent the error code lights from turning on when removing the Hyundai & Kia factory equipped ECS suspension system.
Perfect for:
- M&S America Coilover Kits for Hyundai and Kia vehicles equipped with ECS
- Coilover Kits from other manufacturers that do not have ECS cancelers
- Airbag/AirRide Kits for Hyundai & Kia vehicles.

Product Features:
- Anodized Aluminum Plating
- Plug and Play application
- Stainless steel mounting brackets
- Designed, engineered and manufactured in South Korea by M&S and MoveOn

Compatible Vehicles:
All Hyundai, Kia, and Genesis vehicles equipped with Electronically Controlled Suspension (ECS) system including Hyundai Veloster N, Kia Stinger, Kia K900, Genesis G70, Genesis G80.