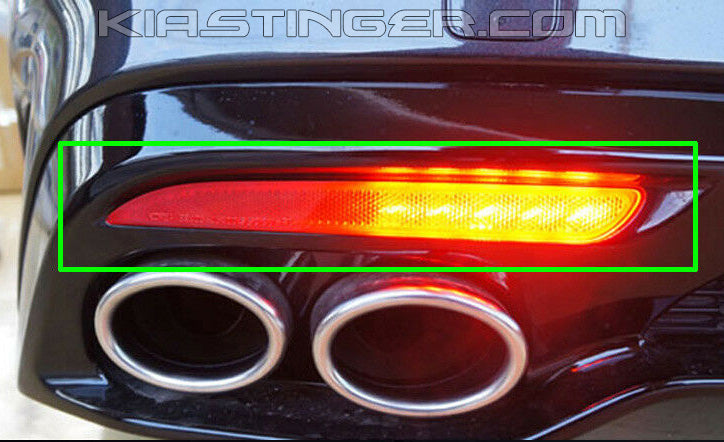 Sequential LED Bumper Reflector Lights for 2018-2021 Stinger - PLEASE SEE NOTICE BEFORE PURCHASING
THIS ITEM IS ONLY MADE BY **ONE MANUFACTURER**. THERE IS NO BETTER VERSION. FIRST GENERATION, SECOND GENERATION, THIRD GENERATION - ALL THE SAME PROBLEMS (BULBS DIE).
IT IS OUR SUSPICION THAT THE FOURTH, FIFTH, SIXTH, SEVENTH AND EIGHTH GENERATIONS WILL ALSO HAVE THE SAME PROBLEM. UNFORTUNATELY, THESE ARE CHEAPLY MADE ITEMS THAT THE MANUFACTURER CHARGES AND ARM, A LEG, AND A LIVER FOR. 
THERE IS NO WARRANTY FOR THIS ITEM. BUY AT YOUR OWN RISK. WHO KNOWS? MAYBE **YOU** WILL BE THE LUCKY ONE!
Make your Stinger stand out with these brand new custom Sequential LED Bumper Reflector Lights
Acts as a turn signal and will blink in the direction you're signaling to turn
Sold as a set including both left and right side bumper reflectors
The lights are

RED

 - not amber as they may appear in the photos
LEDs are pre-installed into the OEM factory bumper reflectors
Easy to install, but professional installation is recommended
Lights up for parking lights, brake lights, and turn signals
Manufactured in South Korea using high quality LEDs
Direct factory 1:1 replacement bumper reflectors
If the wires on your unit are different colors than the install video above, the best way would be to test the wires using a 12V source, which you can do using the battery, or a 12V household battery. If not, the turn signal and ground wire will be pretty obvious, as you only need to follow the wires leading to the turn signal in the tail lights. The black one will be the ground. For the parking and brake, of the three wires going to the brake light, the red will most likely be the brake. But again, it's always best to test the wires.
Wires: Black (ground), Red (brake), Green (running), Yellow (signal)
Neither this product, nor our website, is sponsored by, affiliated with, or endorsed by Kia America, Inc, Kia Motor Corporation, Kia or any other company listed herein. Any logos or various model names and numbers are registered trademarks of the Kia Corporation, Kia Motors Corporation or Kia America, Inc. These terms are used for identification purposes only.